Being the organised freak I am, I find it extremely uncomfortable to have a large amount of books on my Goodreads TBR list. If I'm not eating, sleeping, reading or buying candles on Etsy, I'm probably fixing up and clearing my TBR list.
With this being said, I try to be quite picky with what I add onto it the list, almost exclusively only going for books that are rated 4 stars or over. I KNOW, this is a terrible trait for a reader to have but I'm so terrified of reading slumps. This forces me to only read books that instantly pique my interest or have a good standing with other readers. It's the "safer option" I guess.
I can't vouch for its effectiveness because I have also, after a 2 year reading slump, become inexplicably more fussy and critical of books. This has lead to me leaving more and more 3 stars, whilst being extremely frugal with my 5 stars. However, that has not stopped me from adding a few unreleased books to my TBR list.
I'll be recommending 5 books that are due to be released in 2017 and I hope that some of these interest you as well!
Untitled (#6 Throne of Glass
by Sarah J. Maas
Predicted release: September 2017
Synopsis:
No plot yet (but who am I kidding, why would I need a plot to have this on my TBR list)
Untitled (#3 A Court of Thorns and Roses)
by Sarah J. Maas
Predicted release: May 2nd, 2017
Synopsis:
Feyre has returned to the Spring Court, determined to gather information on Tamlin's maneuverings and the invading king threatening to bring Prythian to its knees. But to do so she must play a deadly game of deceit-and one slip may spell doom not only for Feyre, but for her world as well.
As war bears down upon them all, Feyre must decide who to trust amongst the dazzling and lethal High Lords-and hunt for allies in unexpected places.
In this thrilling third book in the #1 New York Times bestselling series from Sarah J. Maas, the earth will be painted red as mighty armies grapple for power over the one thing that could destroy them all.
Warcross (#1 Warcross)
by Marie Lu
Predicted release: 2017
Synopsis:
Two teenage bounty hunters are "hired by a young billionaire to catch a hacker in the world's most phenomenally popular virtual reality video game."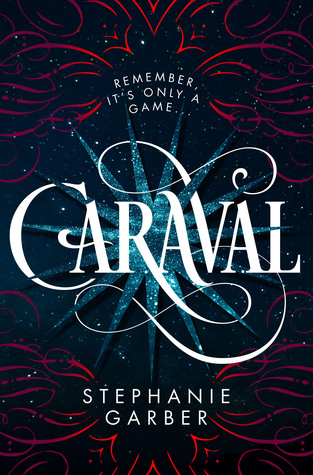 Caraval (#1 Untitled)
by Stephanie Garber
Predicted release: January 31st, 2017
Synopsis:
Before you enter the world of Caraval, you must remember that it's all a game . . .
Scarlett has never left the tiny island where she and her beloved sister, Tella, live with their ruthless father. Now Scarlett's father has arranged a marriage for her, and Scarlett thinks her dreams of seeing Caraval, the legendary, once-a-year performance where the audience participates in the show, are over.
Then, Scarlett's long-dreamt of invitation to Caraval finally arrives. So, Tella enlists a mysterious sailor's help to whisk Scarlett away to this year's show. But as soon as the trio arrives, Tella is kidnapped by Caraval's mastermind organizer, Legend.
Scarlett has been told that everything that happens during Caraval is only an elaborate performance. But she nonetheless soon becomes enmeshed in a game of love, heartbreak, and magic with her sister, with Legend, and with the other players in the game. And whether Caraval is real or not, she must find Tella before the five nights of the game are over, a dangerous domino effect of consequences is set off, and her sister disappears forever.
Wintersong
by S.Jae Jones
Predicted release: February 7th, 2017
Synopsis:
Beware the goblin men and the wares they sell.
All her life, nineteen-year-old Liesl has heard tales of the beautiful, mysterious Goblin King. He is the Lord of Mischief, the Ruler Underground, and the muse around which her music is composed. Yet, as Liesl helps shoulder the burden of running her family's inn, her dreams of composition and childish fancies about the Goblin King must be set aside in favor of more practical concerns.
But when her sister Käthe is taken by the goblins, Liesl journeys to their realm to rescue her sister and return her to the world above. The Goblin King agrees to let Käthe go—for a price. The life of a maiden must be given to the land, in accordance with the old laws. A life for a life, he says. Without sacrifice, nothing good can grow. Without death, there can be no rebirth. In exchange for her sister's freedom, Liesl offers her hand in marriage to the Goblin King. He accepts.
Down in the Underground, Liesl discovers that the Goblin King still inspires her—musically, physically, emotionally. Yet even as her talent blossoms, Liesl's life is slowly fading away, the price she paid for becoming the Goblin King's bride. As the two of them grow closer, they must learn just what it is they are each willing to sacrifice: her life, her music, or the end of the world.