As you guys may or may not know, I went through a massive phase of reading fantasy for a few months. I'm not complaining and that phase certainly isn't over, but somewhere along the line, I grew a little tired of reading fantasy books after having an unfortunate streak of reading average fantasy books.
So, I decided to pick up an NA Romance novel and for a little while, there was no turning back.
I know that NA Romance could easily be stigmatised and categorised as "lower quality literature" and I can understand where that argument can emerge from. However, I'm also a firm believer in "quality" of literature being a personal thing that varies from person to person.
Today I'll be bringing to you guys my short thoughts on some NA/YA romances I've read recently!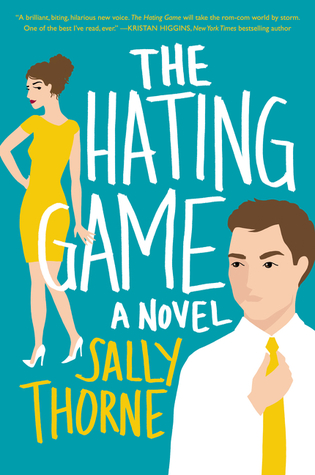 The Hating Game
by Sally Thorne
Thoughts:
This was the first of the bunch of romances I read and was definitely set a high standard for all the proceeding books. I was instantly captivated by the synopsis of this story since I'm always down for a good hate-to-love romance.
The characters' personalities seemingly clashed at first but honestly, I think their overall relationship dynamic allowed for a really heart-warming and intense character and relationship arc.
The book wasn't disappointing and went above and beyond all standards I had. Not only was the romance and relationship built up nicely, but the writing was witty, not overly cheesy and the narrator, Lucy, was extremely easy to relate to. I would recommend this book to anyone!
Rating: 5 out of 5 stars
Paper Princess (#1 The Royals)
by Erin Watt
Thoughts:
Yet again, another hate-to-love romance. What can I say, I'm full of surprises! The atmosphere of this book was slightly different to The Hating Game. The characters we're dealing with in this book are junior/senior high school students but don't be fooled, the romance is a lot steamier and up front. I'd say that this was more direct with the interactions and romance, whereas The Hating Game had bursts of steamy scenes but overall felt a bit more tasteful.
My favourite aspect of this book (and its next two books) is how there isn't just one hot guy but 5 HOT BROTHERS. I know, I know, I don't know how my ovaries survived either but trust me, they only barely made it. The whole family dynamic in the Royals family is a little bit askew and problematic (to say the least), but the relationship that the brothers have with each other and their protectiveness over Ella was soooo swoonworthy.
I deem this book the Number 1 Crack Cocaine Book and I'm sure it's pretty hard to argue against that, just read and you'll see 😉
Rating: 4.5 out of 5 stars
Thoughts:
This book has a fairly similar setting and idea to Paper Princess, but that wasn't the reason why I wasn't a fan of it.
Whereas usually I am a fan of easy, entertaining NA romance reads, this book just didn't cut it for me. It fulfilled all of categories I listed just before, sure, but there were also a lot of issues with the characters and relationships in it that made for an overall below average read.
To put it shortly, the book was overly dramatic, with a wide array of bratty, lust-driven teenage kids. The issue with this was that the drama was never fully explained to the reader and alongside that, the main relationship in the book didn't feel quite right to me. It was, to be put concisely, pretty crude for the majority of the book.
I definitely would say this book is a hit-or-miss and whether or not you enjoy it depends on how fussy you are about complex exploration of relationships and issues within a book.
Rating: 2 out of 5 stars
——
I hope you guys enjoyed some of my thoughts on these books. I'd honestly recommend most of them to you if you were just in the mood for a quick, guilty pleasure read.